Start-up Faraday Future has unveiled a self-driving electric car that it says can accelerate from zero to 60mph (97km/h) in 2.39 seconds.
Faraday says the FF91 accelerates faster than Tesla's Model S or any other electric car in production.
It was shown off at the CES tech show in Las Vegas.
But Faraday Future has faced financial difficulties and one analyst said it had to challenge "scepticism" following last year's CES presentation.
The FF91 was introduced via a live demo, in which it drove itself around a car park and backed into an empty space.
Pre-recorded footage also showed the car accelerating from standstill to 60mph in 2.39 seconds.
Tesla's fastest model did it in 2.5 seconds on the same track.
Late in the presentation, however, there was an awkward moment when Chinese billionaire Jia Yueting tried to demonstrate the car's self-parking function on stage in front of the audience.
This time, the vehicle remained stationary.
Mr Jia is chief executive of LeEco – a Chinese video-on-demand and smartphone-maker – which has invested in Faraday.
"OK, it seems like it's a little bit lazy tonight," said Faraday senior vice president Nick Sampson, as the car refused to respond. It eventually complied later when they made a second attempt.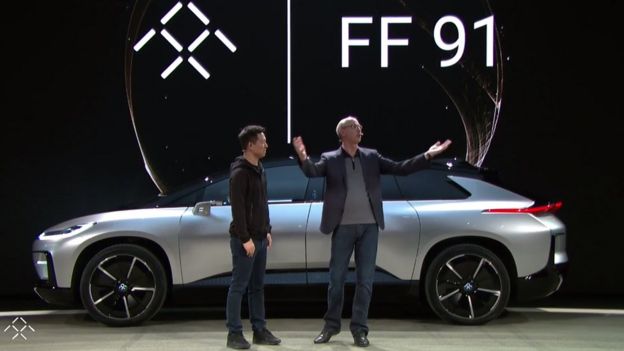 Faraday plans to release the FF91 in 2018. To pre-order, hopefuls will need to provide a refundable $5,000 (£4,080) deposit.
The event came a year after the firm's first press conference, where it showed off a futuristic-looking concept vehicle. Several commentators criticised it at the timefor failing to give more detail about what it was actually working on.