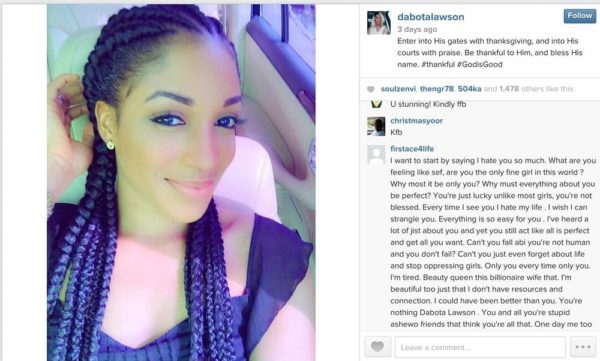 With the anonymous nature of the internet and increasing traction of social media sites including Instagram and Facebook, cyber bullying continues to grow.
Everyday people including teenagers are constant victims of this phenomena.
Beauty queen turned billionaire wife Dabota Lawson was recently targeted by a cyber bully who left a detailed comment on one of her instagram photos.
See the comment and Dabota's response below.
The Comment
I want to start by saying I hate you so much. What are you feeling like sef, are you the only fine girl in this world ? Why most it be only you? Why must everything about you be perfect? You're just lucky unlike most girls, you're not blessed. Every time I see you I hate my life . I wish I can strangle you. Everything is so easy for you . I've heard a lot of jist about you and yet you still act like all is perfect and get all you want. Can't you fall abi you're not human and you don't fail? Can't you just even forget about life and stop oppressing girls. Only you every time only you. I'm tired. Beauty queen this billionaire wife that. I'm beautiful too just that I don't have resources and connection. I could have been better than you. You're nothing Dabota Lawson . You and all you're stupid ashewo friends that think you're all that. One day me too.
Dabota's Response
@firstace4life I try my best not respond to negativity but Child I'm sorry you feel that way. My heart bleeds for you. I'm sorry you're going through all these pains and emotions as a results of your personal demons. I pray for you and hope God takes away this bitterness. I really don't know how to express how bad I feel for you. For a woman to have such low self esteem is tragic. But I'll tell you one thing my life is not in anyway perfect. I've had my own fair share of ups and downs. I don't know you and even with this type of toxic approach I'm gonna send you a hug and a kiss
Photo Credit: Instagram/DabotaLawson