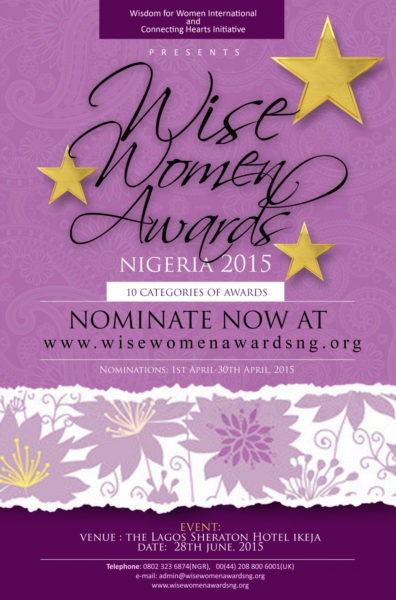 Women represent approximately 65-70% of a good majority of Nigerians all over the country that attend church. They play a major role in the churches and the nation as a whole – especially through their work as volunteers and leaders of church projects and NGOs. Therefore the pivotal role they play in society cannot be overemphasized.
It's with these facts in mind that we are hosting the third Wise Women Awards in Nigeria. The Wise Women Awards 2015 will provide christian women from across the denominational spectrum and across Nigeria with an opportunity to be recognized and nominated for their contributions in the world of work, church and ministry and win an award.
Date: Sunday June 28th, 2015
Venue: Lagos Sheraton Hotel, Ikeja, Lagos
You are encouraged to nominate Christian women that are making a positive impact in the following  categories:
Women in Business
Women in Mission
Exceptional Young Christian Woman (18-30)
Christian Woman Serving in Media
Professional Christian Woman
Woman in Ministry
Woman in Music
Turn-Around Award
Women in The Community Award
Naomi Award
Visit the website www.wisewomenawardsng.org to nominate the woman of your choice. Please read all nominations criteria before you proceed to nominate.
Nominations last from the 1st to the 31st of April, 2015.
This event is organised by Wisdom For Women International (a UK based organisation), in collaboration with Connecting Hearts Initiative.
For more information and inquiries: Call: 08023236874 (NGR), 0 (44) 2088006001 (UK) | Email: admin@wisewomenawardsng.org